Where on the pitch...?

You can see every ruck, scrum, kick and much more on the pitch, LIVE during the games.

Social media aware

Click and share on social networks including Twitter, Facebook, Tumblr. Add your comment and become the rugby analyst among your friends

For the detail-obsessed

Just move the sliders and populate a section of the pitch or a time slice. Be warned: it's addictive.

Don't have a TV?

Never mind watching the game. Use our LIVE commentary!

Data addicted?

No worries. All match come with its analysis data included. Did we mention all of this is LIVE, in real-time, during the games, right?

OS Support
iOS - Android version available
OS Version
iOS 4.3+
Features
Fixtures, results, league tables, graphical and textual statistics, live commentary, lineups, player and teams profiles
Version
1.1

(released February 9th 2012)
Developed by Giuseppe Sollazzo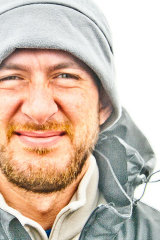 Giuseppe Sollazzo is a Senior Systems Analyst with a passion for mobiles.
He tweets and is known among tech circles as @puntofisso.
After some years working as IT analyst for hospital laboratories, and leading the implementation of web services as a free lancer, he moved to the UK, first as a PhD student in Computing at Imperial College, later as a developer, systems administrator and (currently) senior systems analyst at St George's University of London.
For St George's, among other projects, he's leading the deployment of the corporate mobile portal and the development of an open linked data system.
After moving to the UK, he developed a big passion for playing rugby. This app is his first attempt at conquering the mobile market merging his work and sports passions. He blogs at www.puntofisso.net.
Logo and icons design by Elena Claudia Munari
Born May 22, 1984, Elena Claudia Munari is an architect having fanciful journalistic ambitions. Graduated in Architecture in 2009 with a thesis on urban planning and landscapes, during her early working experience she has experimented with different fields, from town-and-country planning to interior design. While working in London in 2010, thanks to the collaboration with a publishing house, she has developed an intense love for graphics and communication. Currently, she is trying to relate her academic background with her interests: graphic arts, photography and travel, with the aim to transform a simple passion into a real profession. She can be reached at elena.munari@gmail.com
Version History
1.1 February 9th 2012
Bugfix and new features.
New!

Player Stats now available.

New!

Restore database button available in the "Credits" view.

Fixed

Database now saved in the Cache directory as required by Apple.
App Launch 1.0 January 20th 2012
First launch on iOS.
New

Please report any bug!
Write us!
Your opinion and feedback matter a lot! All fields are required.